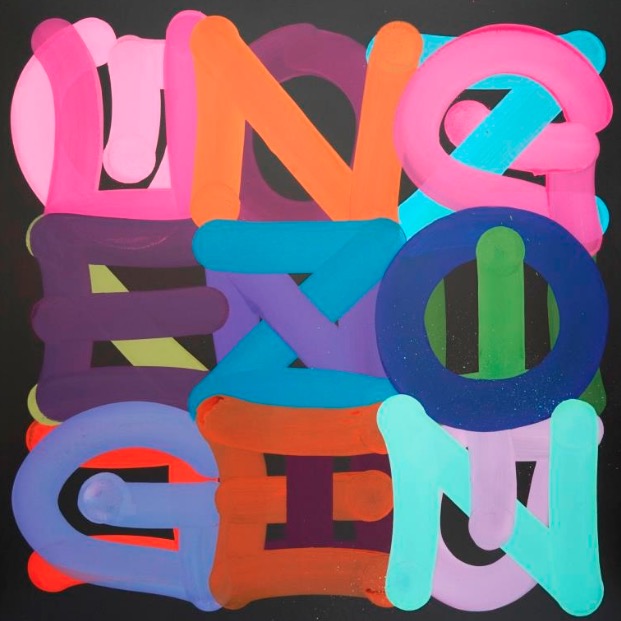 "La mort d' écriture" – The death of the handwriting
What effect does it have on everyday life when the individual handwriting is replaced by normed digital fonts that are produced by keyboard or touchscreen?
The artist Christoph Häßler aka Stohead lives in Berlin and deals with calligraphy for over 25 years now. Coming from an artistic urban background he created many unique fonts and handstyles, which he presents on various surfaces with mostly hand-made tools. Along house walls, skateboards, cars or the classical surfaces such as paper and canvas, the motif oft he handwriting is always present. Quotes from the complex acting protagonists of the hip hop- and punk scene and their urban vocabulary are often the the source of his works and represent the deep root of street art.
Although the content of his works is mainly visualised by aesthetic means the medium of writing invites to decipher them. If the beholder dares to decrypt the code, the works convey subtle hints to social criticism and the poetic interaction with our worlds. The often agressive styles of his calligraphies also symbolize the disillusion and rage, feelings of a generation the has to face fast paces, high technologial progress and overstimulation and that has to ask the question what they can still orient themselves by.
Stohead´s works enchant the beholder with powerful words and colours and subtly call attention to the disappearance of handwriting.

Vita
-geboren 1973 als Christoph Haessler in Schwäbisch Hall
-mit 14 begann er als Graffiti Künstler zu arbeiten
-Stohead lebte in vielen Städten mit einem längeren Aufenthalt in Hamburg und war der Künstlergruppe "getting up"
- seit 2006 arbeitet er in Berlin und ist als freischaffender Künstler und Illustrator tätig

Ausstellungen
Ausstellungen (Auswahl ab 2000)
2016
Gruppenausstellung mit Stohead, Julian Hoffmann, Niclas Castello, Armin Völckers, Dominik von Winterfeld, Lois Renner, Petra Dannehl
Galerie Schimming
Hamburg
2015
"LA MORT D`ECRITURE – DER TOD DER HANDSCHRIFT "
Banana Gallery
Mannheim
"CONCRETE ALPHABETS"
886 geary gallery
San Francisco
2014
-Galerie le Feuvre, Paris
2013
-Circle Culture Gallery, Berlin
-Kunstclub Hamburg, Hamburg
-Art Karlsruhe, Circle Culture Gallery, Karlsruhe
2012
-Galerie le Feuvre, Paris
2011
-CIRCLECULTURE" pop up show at Altes Casino, Hamburg
-Galerie Schaufenster, Berlin. D.
2010
-Galerie Im Namen des Raumes, Berlin
2009
-Klingspormuseum, Offenbach
2008
-Soulgallery, Berlin
2007
-Caixa cultural, Rio de Janeiro
-Reinking Projekte & Peter Borchardt. Stilwerk, Hamburg
2006
-Kampnagel, Hamburg
-Sammlung Reinking, Federkiel, Baumwollspinnerei, Leipzig
2003
-Galerie Elbchaussee 8, Hamburg
Ernst Barlach Museum, Ratzeburg
-Taxie Gallery, Paris
2002
-Museum für Kunst und Gewerbe, Hamburg
-Dokumenta, Kassel
2001
-Alte Postsortierhalle, Hamburg
-Best Western, Gera
2000
-Schweriner Schloss, Schwerin