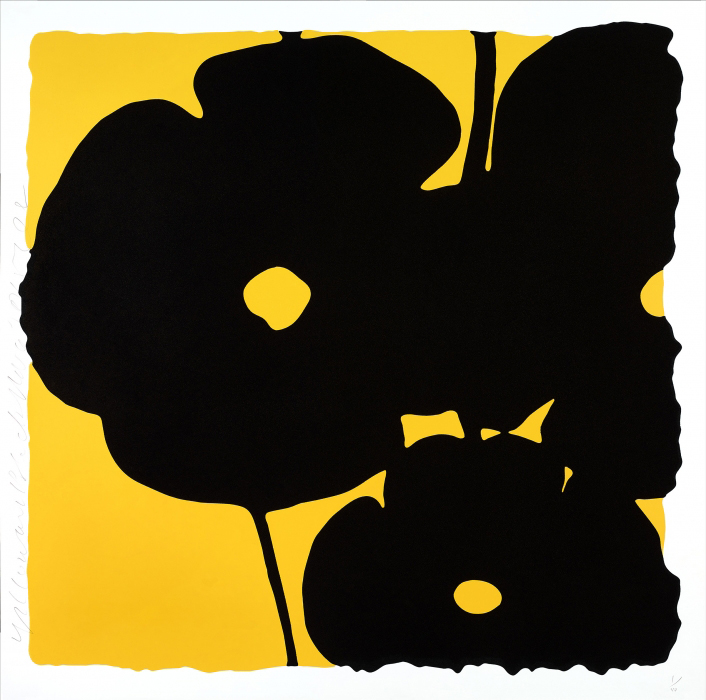 Donald Sultan reduces his pictorial objects, often fruits and flowers, to their mere outlines and contrasts them sharply. He reinterprets the classical still lifes and creates impressive works that, with their degree of abstraction and the imposing size, create strong contrasts between the luminous motif and the background. The intimacy of the murky painting is transformed into massive platsity and produces a so-called visual effect through a saturated background.
In the manner of Pop Art, large-scale and with clearly defined contours, the pictorial objects are emblematic through the stylization. Sultan describes the raw image as "something brutal and beginning". Afterwards, he combines artifical materials and techniques with stylistic and iconographic strategies of Pop Art. Objects, fruits or flowers as traditions of still lifes are transformed into large reductions and strong contrasts on large, square panels. Sultan moves on the border of the abstract and everyday, combining geometrical and organic forms, whereby the language of the pictures becomes both monumental and fragile.
Until now Sultan is the youngest artist who was honored with a solo exhibition at the Museum of Modern Art in New York at the age of 37. He was part of the "New Image" movement in the late 1970s in New York.