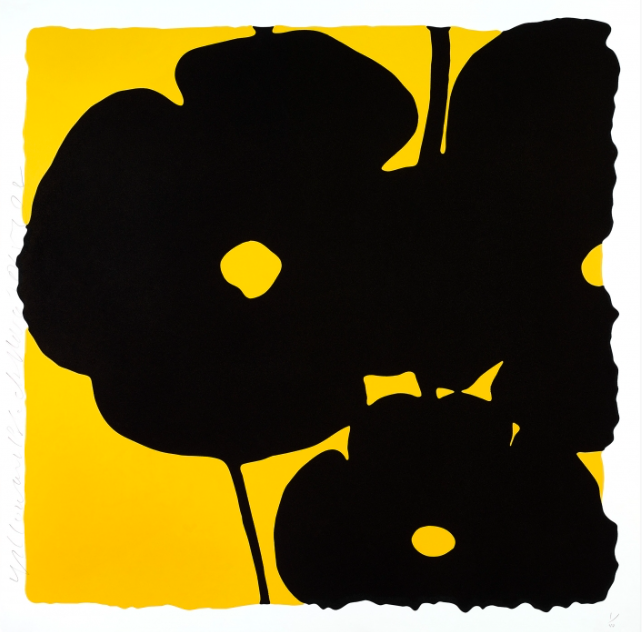 Donald Sultan reduziert seine Bildgegenstände, oft Früchte und Blumen, auf ihre bloßen Umrisse und konturiert diese scharf. Er interpretiert das klassische Stilleben neu und erschafft beeindruckende Arbeiten, die mit ihrem Abstraktionsgrad und der imposanten Größe starke Kontraste zwischen dem leuchtende Motiv und dem Hintergrund schaffen. Die Intimität der Stillebenmalerei wird in wuchtige Platsitität transformiert und erzeugt in neuer Erscheinung und durch gesättigte Hintergründe eine sogartige Bildwirkung.
In der Manier der Pop Art, grossflächig und mit klar umrissenen Konturen, wirken die Bildgegenstände durch die Stilisierung emblemhaft. Den rohen Bildgrund beschreibt Sultan als "something brutal and beginning", anschließend kombiniert er kunstfremde Materialien und Verfahren mit stilistischen und ikonografischen Strategien der Pop Art. Objekte, Früchte oder Blumen als Traditionen der Stillebenmalerei werden in flächiger Reduktion und starken Kontrasten auf großen, quadratische Tafeln inszeniert. Sultan bewegt sich auf der Grenze des Abstrakten und Alltäglichen und kombiniert geometrische sowie organische Formen, wobei die Bildsprache zugleich monumental wie fragil wird.
Bisland ist Sultan der jüngste Künstler, der mit 37 Jahren im Museum of Modern Art in New York mit einer Einzelausstellung gewürdigt wurde. Er war Teil der "New Image" Bewegung in den späten 1970ern in New York.