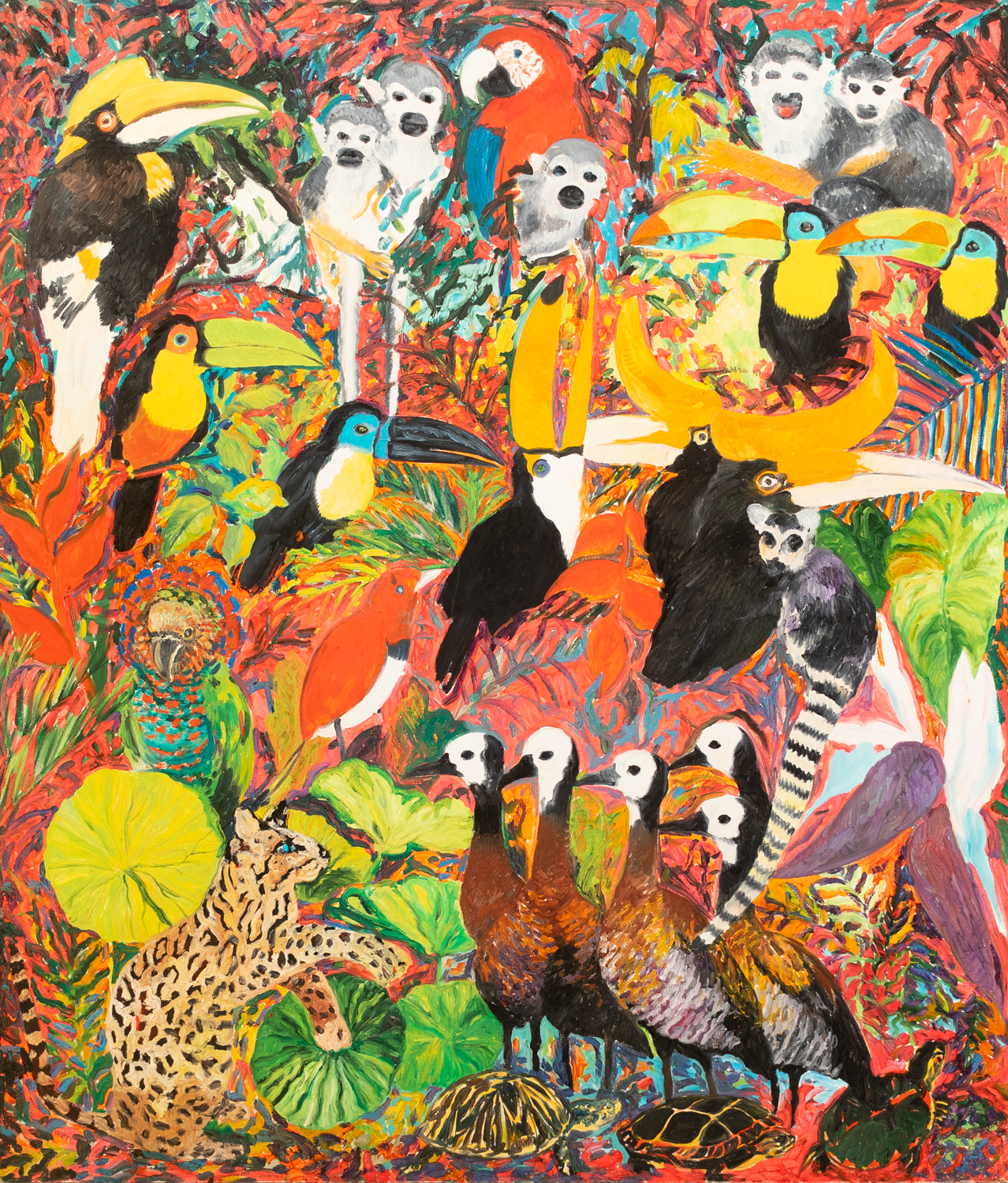 Der 71 jährige New Yorker Maler, Bildhauer und Grafiker Slonem wurde weltweit bekannt durch seine neo-expressionistischen Motive.
Beeindruckend, unerwartet, realistisch, und zum Teil abstrakt, bezaubert Slonem mit Bunnies, Butterflies und Birds.
Seinen Hasen/Bunnies, mit ihrem unabhängigen und weichen Charakter, gibt Slonem in Einklang mit ihrem jeweils ausgewählten Rahmen eine einzigartige Persönlichkeit. Die ursprünglich abstrakt angelegten Bunnies werden mit viel Liebe zum Detail und hoher Präzision zum Leben erweckt und finden jeweils schnell ihren persönlichen Liebhaber.

Vita
1951
geboren in Kittery, Maine
1968
internationaler Rotary Austausch-Student in Managua, Nicaragua
1972
Besuch der Skowhegan School of Painting and Sculpture
1973
Besuch der Tulane Universität, New Orleans, Bachelor of Arts
1976
Elizabeth T. Greenshields Stiftung, Stipendium für Malerei, Montreal, Kanada
1978
Cultural Council Foundation Arts Project, NY
1982
Millay Colony, Austerlitz, NY
1983
MacDowell Stipendium, Peterborough, N.H.; Ragdale Foundation, Lake Forest, IL
1984
MacDowell Fellowship, Peterborough, N.H.
1986
MacDowell Fellowship, Peterborough, N.H.
1991
National Endowment for the Arts
Seit 1973 lebt und arbeitet der Künstler in New York City in seinem legendären Loft mit dutzenden zahmen Vögeln.

Ausstellungen
Einzelausstellungen(Auswahl):
2019 - Hunt Slonem: Eden Never Ends, Nassau County Museum of Art, Roslyn Harbor, NY
Cuadro Fine Art, Dubai, UAE
TEW Galleries, Atlanta, GA
DTR Modern, Palm Beach, FL
DTR Modern, Boston, MA
Coats Wright Gallery, Carmel, IN
2018 - Hunt Slonem, Kasteev State Museum of Arts of the Republic of Kazakhstan, Almaty, Kazakhstan
Hunt Slonem, National Museum of the Republic of Kazakhstan, Astana, Kazakhstan
Hunt Slonem, Everhart Museum, Scranton, PA
Gallery Frederic Got, Paris, France
Rarity Gallery, Mykanos, Greece
Galerie de Bellefeuille, Montreal, QC
Galerie de Bellefeuille, Toronto, ON
2017 - Hunt Slonem, The State Russian Museum, St. Petersburg, Russia
Hunt Slonem, Contemporary Art Museum, Krasnoyarsk, Russia
Missouri State University, Springfield, MO
The Art Museum of West Virginia University, Morgantown, WV
The Ware Art Gallery, Morgantown, WV
Harmon-Meek Gallery, Naples, FL
Galerie Von Stechow, Frankfurt, Germany
Rosenbaum Contemporary Art, Boca Raton, FL
2016 - Anetbellum Pop! LSU Museum of Art at the Shaw Center for the Arts, Baton Rouge, LA
Mattatuck Museum, Waterbury, CT
Cuadro Fine Art, Dubai, UAE
Russell Collection of Fine Art, Austin, TX
2015 - Marjorie S. Fisher Foundation – Gallery at Center of Creative Education, West Palm Beach, FL
Moscow Museum of Modern Art, Russian Academy of the Arts, Moscow, Russia
Galerie de Bellefeuille, Montreal, Canada
Vogelsang Gallery, Brussels, Belgium
TEW Galleries, Atlanta, GA
2014 - National Art Gallery, Sofia, Bulgaria
Martine Chaisson Gallery, New Orleans, LA
McHugh Gallery, Aspen, CO
Serge Sorokko Gallery, San Francisco, CA
DTR Modern, Boston, MA
Harmon-Meek Gallery, Naples, FL
DTR Modern, Palm Beach, FL
Morris Museum of Art, Augusta, GA
DTR Modern, London, United Kingdom
Galerie von Stechow, Frankfurt, Germany
Galerie de Bellefeuille, Montreal, Quebec, CA
Gremillion & Co., Houston, TX
Alison Sprock Fine Art, Charlotte, NC
Louisiana Arts & Sciences Museum, Baton Rouge, LA
Galerie Sono, Norwalk, CT
Miller Gallery, Cincinatti, OH
Quidley & Co., Nantucket, MA
Madison Gallery, La Jolla, CA
Weinberger Fine Art, Kansas City, MO
2013 - "Birds and Bayous: Paintings by Hunt Slonem," The Manship Theatre, Shaw Center, Baton Rouge, LA
Vered Gallery, East Hampton, NY
Gilman Contemporary, Ketchum, ID
Martine Chaisson, New Orleans, LA
McHugh Gallery, Aspen, CO
Serge Sorokko Gallery, San Francisco, CA
Harmon-Meek Gallery, Naples, FL
Bradbury Gallery, Arkansas State University, Jonesboro, AR
Ruiz-Healy Gallery, San Antonio, TX
Galerie de Bellefeuille, Montreal, Quebec, CA
DTR Modern, Boston, MA
Weinberger Fine Art, Kansas City, MO
DTR Georgetown, Washington, DC
New Gallery of Modern Art, Charlotte, NC
Madison Gallery, La Jolla, CA
"Playscapes" Children's Museum of Indianapolis, Indianapolis, IN
Gremillion & Co., Dallas, TX
DTR Modern, Palm Beach, FL
Cuadro Fine Art Dubai, UAE
Morris Museum, Augusta,GA
2012 - Weinberger Fine Art, Kansas City, MO
Mabeyn Gallery at the Chamberlain House, Besiktas, Istanbul
Brenau University, Gainesville, GA
DTR Modern, Palm Beach, FL
Gremillion & Co., Houston, TX
Galeria Espacio, San Salvador, El Salvador
Martine Chaisson Gallery, New Orleans, LA
McHugh Gallery, Aspen, CO
DTR Modern, Boston, MA
Imago Galleries, Palm Desert, CA
DTR Modern, Washington, DC
New Gallery of Modern Art Bulgaria, Sofia, Bulgaria
Harmon-Meek Gallery, Naples, FL
Art Miami Inter'l Contemporary & Modern Art Fair/Dean Project, NY
2011 - Marlborough Gallery, New York, NY
New Orleans Museum, New Orleans, LA
George Washington University Museum, Washington, DC
Glenbow Museum, Calgary, Canada
Peabody Museum of Art, Salem, MA
Brenau University, Gainesville, GA
Gibbs Museum of Art, Charleston, SC
Alexandria Museum, Alexandria, LA
Polk Museum of Art Lakeland, FL (Dezember – März 2012)
2010 - Martine Chaisson Gallery, New Orleans, LA
Museo de Arte San Salvador, San Salvador, C.A.
DTR Modern , Palm Beach, FL
Coral Springs Museum, Coral Springs, FL
Gebert Gallery , Venice, CA
Thomas Masters Gallery , Chicago, IL
DTR Modern , Boston, MA
Harmon-Meek Gallery , Naples, FL
Gallerie Bellefeuille , Montreal, Canada
Museum Gallery of Modernism , Sofia, Bulgaria
Meadows Museum of Art , Shreveport, LA
Paul & Lulu Hilliard University Art Museum , Lafayette, LA
San Antonio Museum of Art , San Antonio, TX