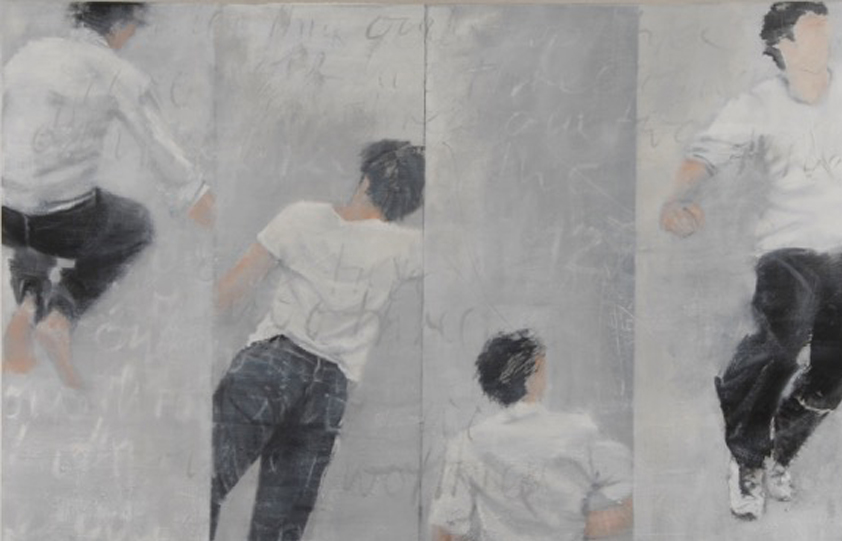 Petra Gabriele Dannehl is constantly commutes between Germany and Switzerland. For almost 30 yearsshe is developing her pictorial work, her installations and sculptures.
"The figures in Dannehls works exist in an intermediate realm between reality and dream. Associations from the dreamworld find their counterparts in the hazy atmosphere in the pictures. Fictive landscapes emerge from the blur in the appeal of the picture, which itself serves as a creative instrument especially being contrasted with realistically drawn figures. Inserted photocopies disturb the usual way of seeing and play with the difference between picture and depiction. With the use of writing as a visual tool, background and image interweave in their own structure. In this, people in the works can be the direct protagonists or leave their marks indirectly."
The works of Petra Gabriele Dannehl are represented in several private and public collections (i.e. Hamburger Sparkasse, HSH Nordbank, Signal Iduna).

Vita
geboren in Leipzig, aufgewachsen in Hamburg und Davos (CH)
Studium der Gebrauchsgrafik und Malerei in Hamburg
Seit 1986 als freischaffende Künstlerin tätig in Hamburg und Tessin (CH)

Ausstellungen
Ausgewählte Ausstellungen ab 2009
2016
Gruppenausstellung mit Stohead, Julian Hoffmann, Niclas Castello, Armin Völckers, Dominik von Winterfeld, Lois Renner, Petra Dannehl
Galerie Schimming
Hamburg
2014
"MACHT", Kunsthaus Hamburg
Galerie Schimming, Hamburg
2013
Fabrik der Künste, Hamburg
2012
Kunsthaus Hamburg
2011
Kunsthaus Hamburg
2010
Hamburger Rathaus
Barlachgesellschaft, Güstrow
Kunsthaus Hamburg
2009
Kunsthaus Hamburg